Chinese Zodiac Series Art Print -Dragon-Handpull SilkScreen
$

64.00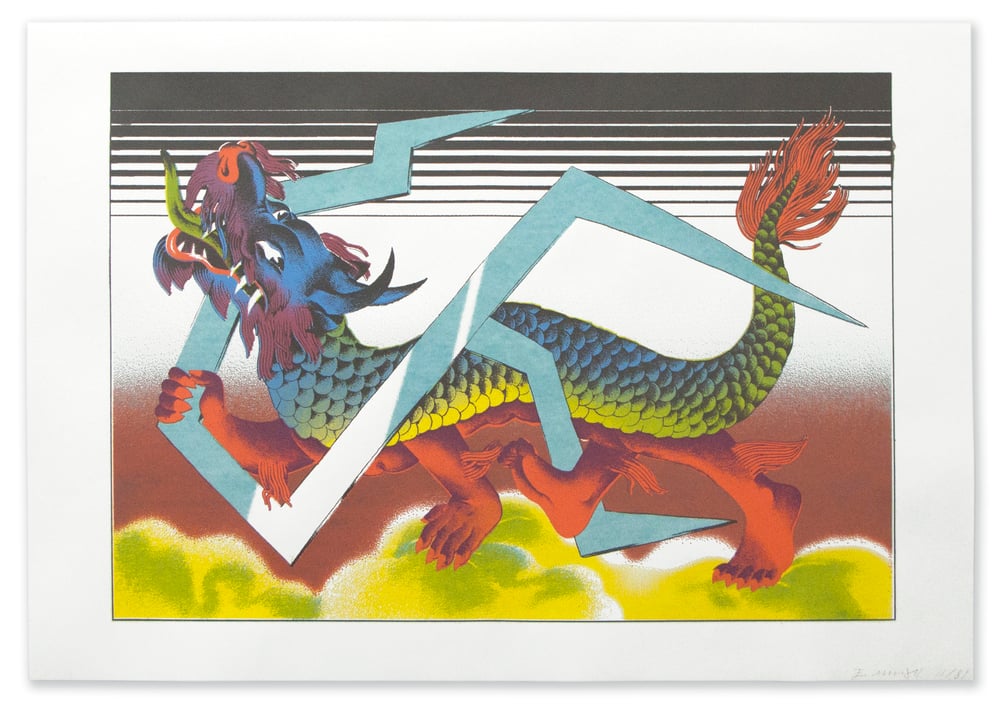 One half brain of idlebeats - Gregor Koerting created this artwork for the Dragon Year(2012) in China's lunar calendar.
It's a six-screen print with multiple layers of half-transparent colors which generates a vivid psychedelic scene, it's a wonderland where the mysterious creature strolls among the clouds and plays with lightnings.
This is not only an artwork that shows Gregor's wonderful print-making skills but also a piece created with a deep feeling towards the culture, a peek to the inside of the artist's imaginative world that formed over the years of living in China.
All 81 pieces handpulled by the artist himself at idlebeats studio, water-based ink on high-weight fine art paper, one-off edition, grad one before it's sold out.
Artist: Gregor Koerting
Edition Size: 81
Screen Print Size: 54 x 78cm
Number of Colors: 6
Paper: 300gsm white card paper
signed and numbered by the artist
Title: Dragon Year
...................................................................................................................
*All hand printed by the artist himself at IdleBeats Shanghai.
*Unique elements introduced through the hand-printing process make no two prints exactly the same.
*All IdleBeats posters will be shipped with paper tube in 3 days after transaction via China Post registered mail service, arriving worldwide within 10-30 days. The package is track-able online, a tracking number will be sent to you via mail.
*More prints from IdleBeats: www.idlebeats.com worldwide within 10-30 days, a tracking number will be sent to you via email after shipment.
• Orders over $100 gets free delivery worldwide.
• All posters and prints will be shipped rolled in paper tubes with free stickers and studio card.
Share